An Okavango Delta Safari is a totally unique wilderness safari experience, as the flood plains, water lily lagoons, forests and open grasslands of the Okavango Delta lie right in the heart of the largest continuous stretch of sand in the world, the Kalahari Desert Basin.
Game viewing in the Okavango Delta is fantastic and totally unique, with safaris by boat or mokoro (canoe) being a speciality. Imagine sitting back in a wetland paradise whilst your mokoro is paddled for you, viewing Africa's finest creatures as they go about their business undisturbed, this is the essence of an Okavango Delta Safari.
An Okavango Safari affords guests the opportunity to view large herds of buffalo and other herbivorous game attracting high concentrations of African super predators such as lion, leopard and hyena. This is just one of the reasons why the Okavango Delta is a "must see" destination for anyone planning a Botswana Safari, it is totally unique, as no other game reserve or safari destination in Botswana or even Africa has a similar offering to that of the Okavango Delta. The Okavango also offers quality luxury safari lodges in exclusive, prime wildlife areas allowing for the ultimate African Safari.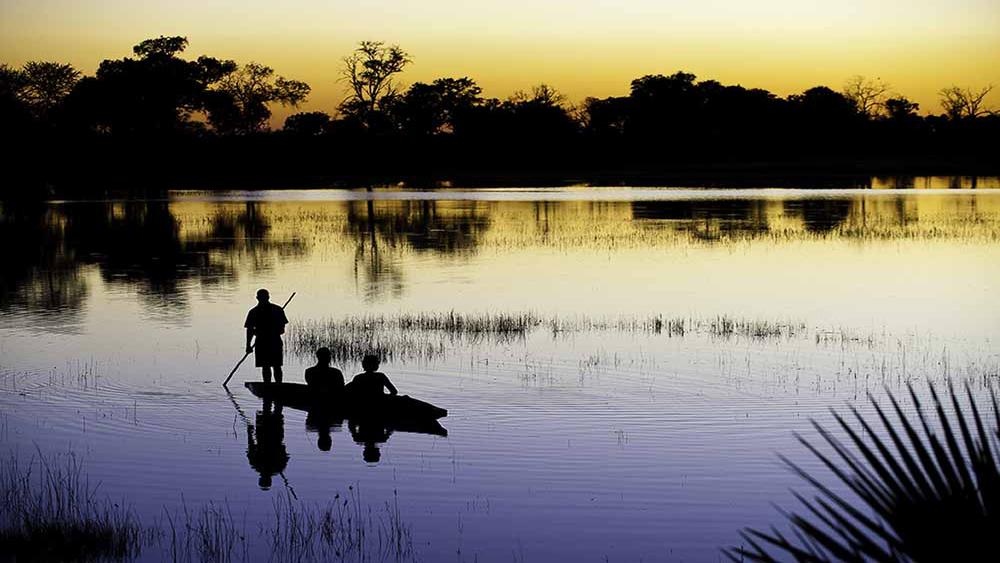 Gluide through the tranquil waters of the Okavango Delta in a Mokoro

"Thanks once again for arranging such a fantastic adventure in Africa, we had a marvellous time. Your choices of locations and lodges/camps were superb. Each one offered a different atmosphere and experience. The whole trip went without a hitch and we were met promptly at every stage of the journey. The whole experience exceeded our expectations. We have really found it hard to settle back into our normal way of life."
Joy & John Blakeley, United Kingdom
At the heart of the Okavango Delta is the Moremi Game Reserve, one of the leading wildlife areas in the world. It is situated right in the heart of the Okavango Delta and it is approximately 3,000 sq km. The Reserve is named after the late Chief Moremi and it was proclaimed a Wildlife Reserve by the Tswana people in 1963.Moremi is a place of untouched and unspoiled beauty, consisting of a network of waterways and islands.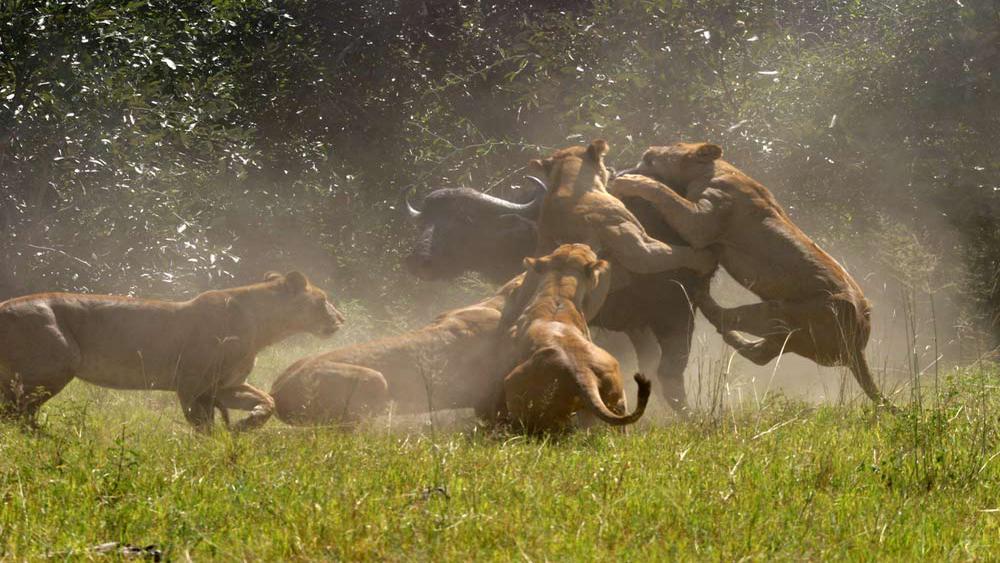 Buffalo and Lion interaction at Duba Plains in the Okavango Delta
Due to the uniqueness of the Okavango Delta, it is highly recommended to combine an Okavango Delta Safari with a safari to a completely different area of Botswana, such as the Linyanti Wildlife Reserve in order to obtain a more complete and varied Botswana Safari experience.
Enquire now with one of Africa Uncovered's specialist Okavango Delta Safari consultants who can assist you in planning the ultimate safari to this magnificent region.
RECOMMENDED OKAVANGO DELTA SAFARI LODGES