Kwazulu Natal has some of the best beaches in the country, and some truly memorable seaside resorts. Further in land lie the Drakensberg Mountains, South Africa's highest peaks, and the battlefields of central Kwazulu Natal, where many a skirmish was had between the British, the Zulus and the Boers. Trout fishing is a very popular activity in the Drakensberg area.
Kwazulu Natal is a sports mad province, and the capital port City of Durban plays host to the vociferously supported Kwazulu Natal "Sharks" rugby team. Durban and its surrounding areas also contain some of South Africa's best golf courses, with Durban Country Club regarded by many as the finest golf course in South Africa. However, most foreign tourists descend on this region, not only for its golden beaches, picturesque mountains and valleys, battlefield sights and great golf courses, but also because the Northern Kwazulu Natal region is one of South Africa's best wildlife areas.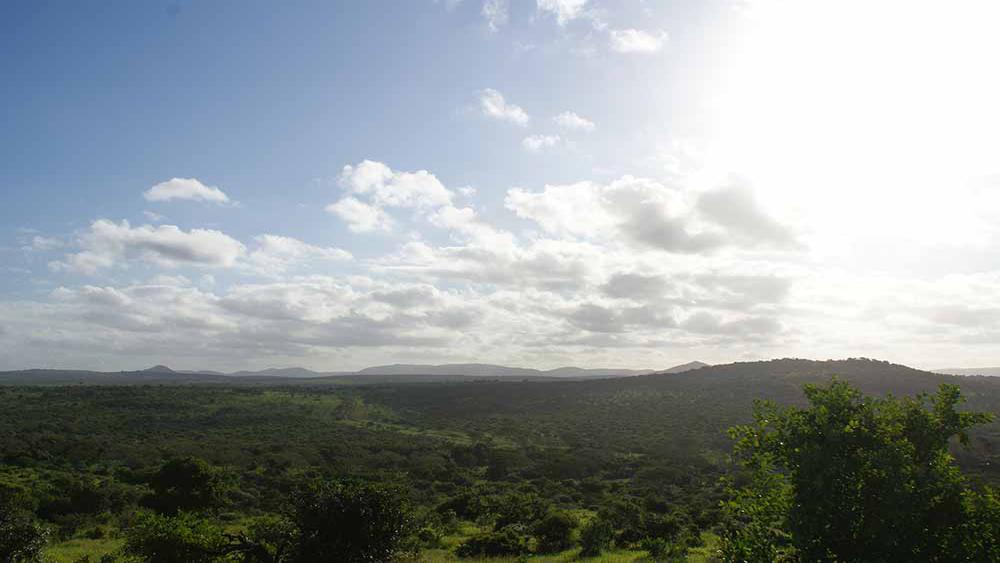 Safari in the magnificent and picturesque Phinda Private Game Reserve.
Maputuland in northern Kwazulu Natal is the geographic name given to one of South Africa's wildest, most beautiful and unspoilt regions. Also referred to as the Elephant Coast, this area is home to an incredible 21 different eco-systems, dense evergreen forests, consisting of thick bushveld, mountains, broad flood plains, large coastal lagoons, clear coastal lakes, fantastic coral reefs, and miles and miles of golden sandy beaches. This area is one of the few destinations in the world; where one can see the Big Five and within half an hour's drive be able to watch dolphins and whales swimming in the clear, warm tropical Indian Ocean. Sodwana Bay with its fantastic coral formations enthrals divers from all over the world.
Maputuland, with its extraordinary range of eco-systems and wildlife, also hosts one of South Africa's "World Heritage sites" – the Greater St. Lucia Wetland Park. The Park comprises of 280 Km of near pristine coastline, and 328,000 hectares of magnificent scenery. The Greater St. Lucia Wetland Park is also home to one of the largest populations of hippopotamus and over 1,000 crocodiles. Elephant, buffalo, rhino, zebra and different types of buck are also found in the park. However, even more impressive is the bird life that exists in the St. Lucia Wetlands. There are believed to be over 500 different species of birds that visit the Wetlands, including marine, wetland and forest birds.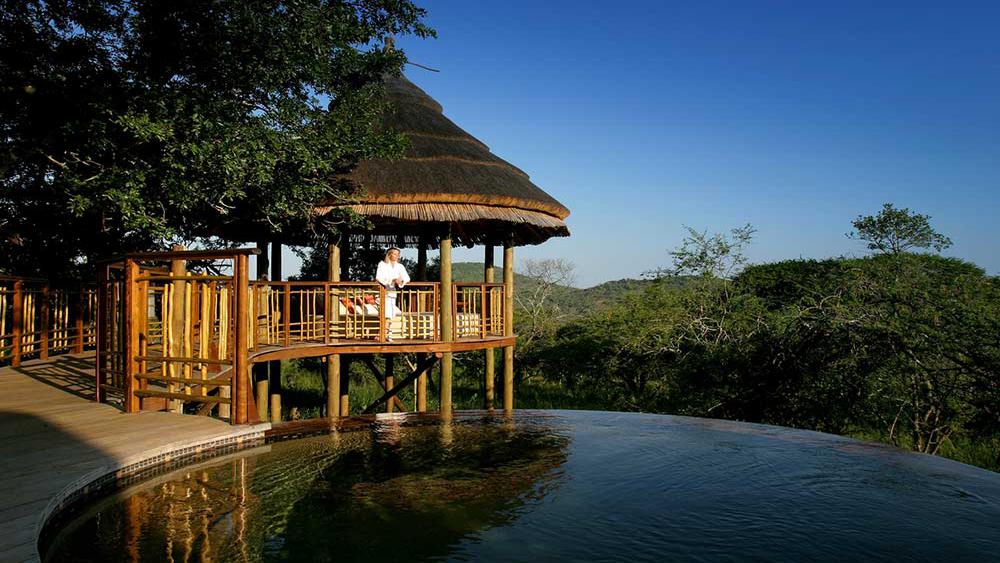 Thanda Private Game Lodge
The game parks in Northern Kwazulu Natal are amongst some of the finest in South Africa. None more so than the world famous Phinda, which borders the Greater St. Lucia Wetland Park. Phinda comprises 17,500 hectares of prime conservation land, which includes seven distinct habitats, home to an abundance of wildlife including Africa's Big Five, and over 380 bird species. Phinda borders on the Hluhluwe Umfolozi Game Park, which is one of the oldest game reserves in Africa, and it was the centre for Operation Rhino in the 1950's and 60's, making it world renowned for saving the white rhino from extinction. The park covers some 96,000 hectares, and it contains an immense diversity of fauna and flora, and today is home to 1,600 white rhino, and 370 black rhino. These impressive numbers means a good likelihood of spotting one of these fine animals whilst on a game drive or walk.
Enquire now with one of Africa Uncovered's specialist consultants who can assist you in planning the perfect trip to Kwazulu Natal.
RECOMMENDED SAFARI LODGES IN KWAZULU NATAL