A DESERT SAFARI IN DAMARALAND
This area demonstrates like no other the great contrasts of land within Namibia.
Damaraland is an area varied to the extreme with ancient valleys and petrified forests leading to rocky outcrops and the soaring peaks of the Brandeberg Mountains. Within the ravines and the caves of the Brandeberg Mountain range at Twyfelfontein many prehistoric rock paintings have been discovered.
Damaraland is another great reason to visit Namibia. It offers striking imagery, the solitude of being out in the wild far away from civilization and unique wildlife in the form of desert adapted Elephant, the mountain Zebra and the rare black rhino. The night sky is also a carpet of stars.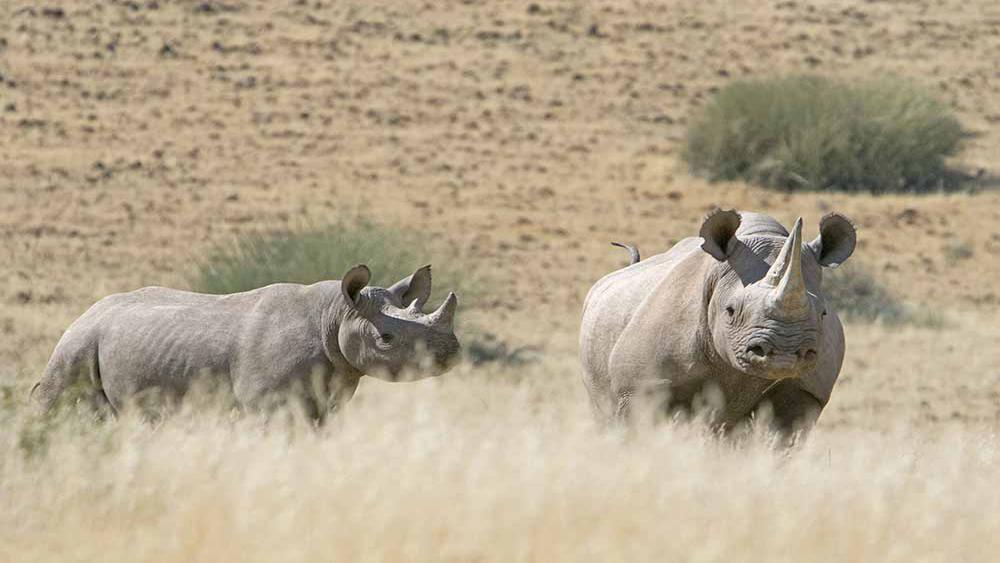 Damaraland offers the opportunity of seeing Rhino.

What Africa Uncovered says…
A safari to Damaraland is highly recommended if you want to sample the essence of Namibia. Experience the solitude of the desert and marvel at the unique desert adapted wildlife. Damaraland is a very special place and where possible, should be added to any Namibia itinerary.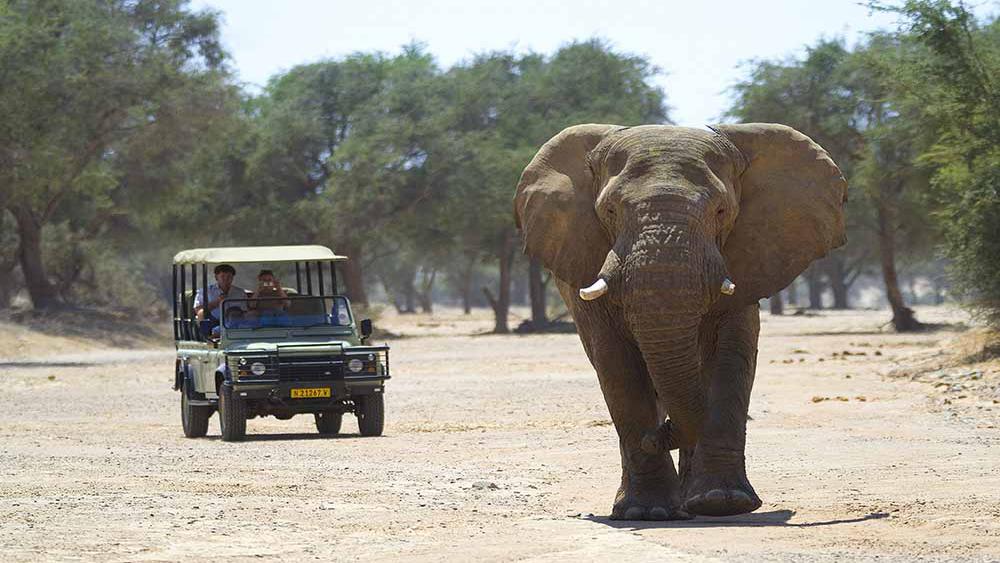 Seeing desert adapted Elephant are a highlight of any safari to Damaraland.
Situated approximately 100 kilometres north of the Brandeberg Mountains, on the banks of the Huab River is the Torra wildlife conservancy. This is a region of unimaginable beauty consisting of endless plains, broken by deep ancient valleys and soaring mountain peaks. Mist from as far away as the Atlantic, Skeleton Coast (Some 90km to the west) rolls in along the river valley providing moisture and sustenance to a variety of life forms within this dry area. The Huab Reiver is mainly dry, flowing only several times a year during the short raining season. Wildlife in Damaraland include the desert elephant, lion, and the endangered black rhino, mountain zebra, ostrich, oryx, kudu and springbok are also found in Damaraland.
A Safari to Damaraland combines perfectly with a visit to Sossusvlei and a safari to Etosha. Contact one of our Namibia specialist consultants who will assist you in planning a magnificent safari in Damaraland.
RECOMMENDED DAMARALAND SAFARI CAMPS