Desert Rhino Camp Summary
Desert Rhino Camp is situated in the 450,000 hectare Palmwag Concession in Damaraland in northwest Namibia, between Etosha and the Skeleton Coast – few places on the planet can offer this level of privacy and wilderness experience. Desert Rhino Camp is run in conjunction with the 'Save the Rhino Trust' a non-profit conservation organisation that has been working in this area for 20 years. The Trust has been singly responsible for helping to ensure that these rare, desert adapted black rhino survived the slaughter that went on throughout other parts of Africa in the 80s and 90s. Located in Northern Damaraland it offers a brilliant insight into the ecology and conservation of this area while at the same time contributing to the Trust, the Rhino conservation operations as well as the sustainability of the region. Today this population of black rhino is growing in numbers and the area boasts the largest concentration of rhino anywhere on the planet outside of a national park. Community game scouts who were employed by the Trust to help with the patrolling and monitoring all these years are now seconded to the camp and are the trackers and guides. A portion of every guest's revenue goes to the Trust.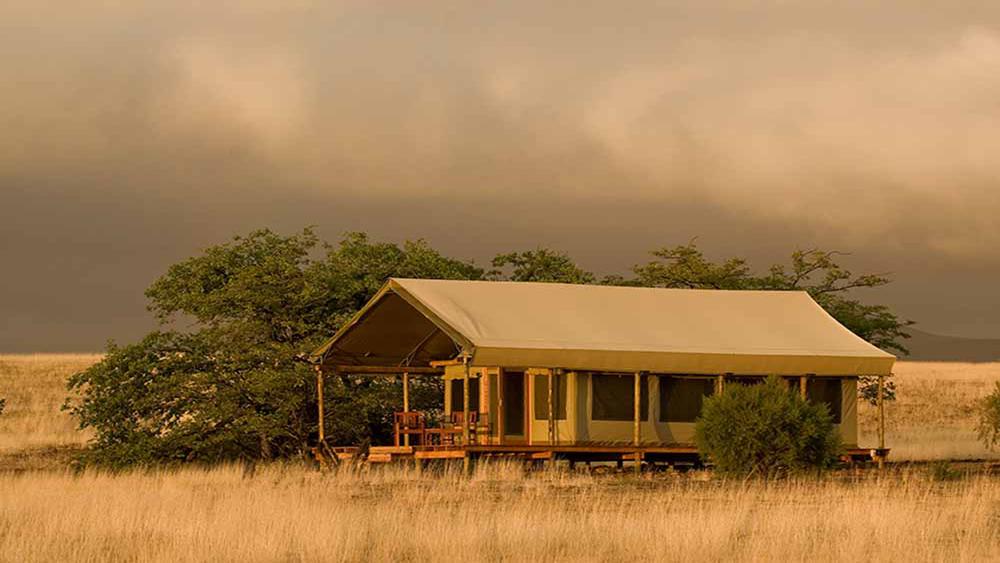 A Tented room at Desert Rhino Camp in Damaraland

What Africa Uncovered says…
A great camp, where Rhino Tracking on foot is a real highlight. We love the fact that the camp collaborates with the "Save the Rhino Trust" which is such a great cause!
Desert Rhino Camp Description
Desert Rhino Camp accommodates 16 guests in 8 large East African styled "Meru" tents with en-suite bathroom facilities including shower, hand basin and flush toilets. Lights are powered by solar panels and the tented dining room offers uninterrupted views of the desert and mountains. Welwitschia (ancient desert adapted plants) plants dot the plain in front of the camp.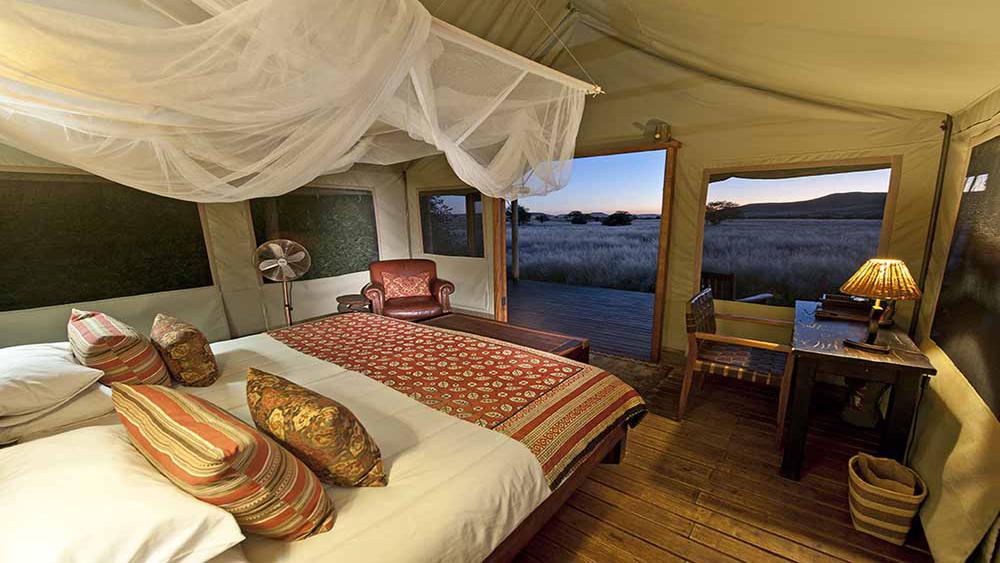 The inside of a tented room at Desert Rhino Camp
This desert reserve has a number of fresh water springs that support healthy populations of animals including desert adapted Black Rhino and Elephants as well as large populations of the rare Hartman's Mountain Zebra, Giraffe, Oryx, Springbok and Kudu. The predator population is the largest outside of the Etosha National Park with over 100 Lions, Cheetah, Leopard, Brown and Spotted Hyena. Bird life is prolific and diverse with most of Namibia's endemics present.
Activities include rhino tracking on foot or by vehicle as well as day and night nature drives.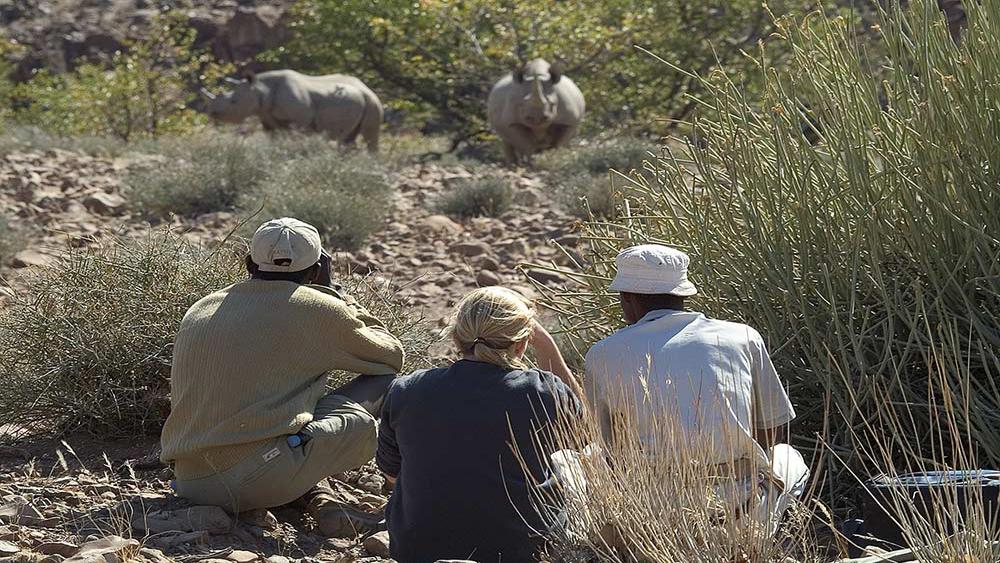 Rhino tracking at Desert Rhino Camp
Enquire about Desert Rhino Camp
Guide Price: From USD $425 per person per night sharing
Rates may vary according to season