Virunga Lodge lies perched on a ridge offering some of the most amazing views of the Virunga Volcanoes and the beautiful lakes of Ruhonda and Bulera. Virunga Lodge is one of the premier lodges in the Volcanoes National Park region and is the ideal base from which to embark on a Gorilla Trekking excursion into the national park. The park is an hours drive away from the lodge however it is a scenic drive.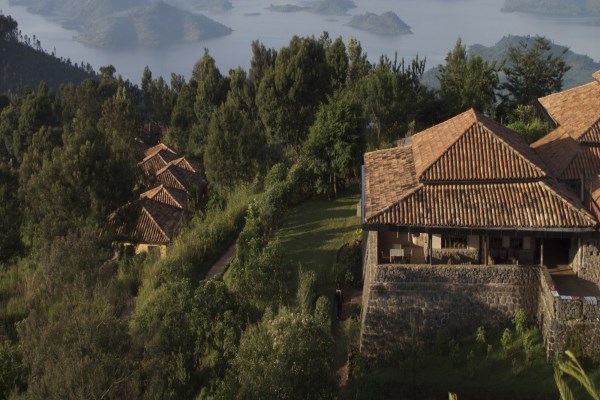 What Africa Uncovered says…
Virunga Lodge although an hours drive from the National Park gates, offers amazing views from its elevated position and in our opinion is one of the best places to stay for Gorilla Trekking in the Volcanoes National Park.
Virunga Lodge Description
Amazing views, rustic but chic, luxurious accommodation and a great array of activities on offer are what the Virunga Lodge experience entails.
The lodge itself consists of 8 stone bandas which have tile roofs which is in keeping with the local building style. There are 4 double bandas and 4 twin bandas. En-suite facilities include a shower with hot and cold running water as well as a flush toilet. All rooms have mosquito nets and a verandah from which to enjoy the spectacular views.
The main communal area offers spectacular views of the twin lakes and the mountains and valleys and consists of a lounge area with a central fireplace and plenty of sofas, tables and chairs for comfort. Virunga Lodge prides itself on being eco-friendly and a lot of the materials and items used at the lodge are sourced locally.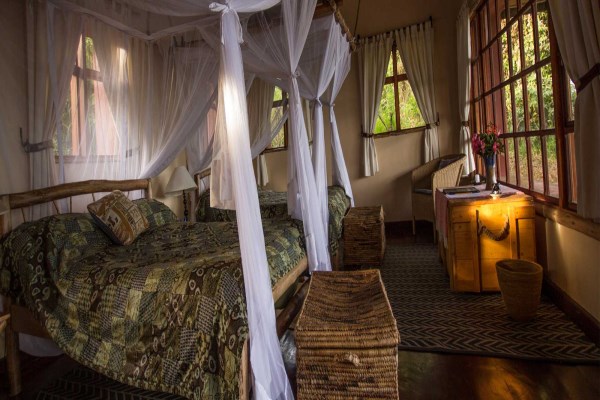 A luxury room at Sabyinyo Silverback Lodge
The main activity at Virunga Lodge is Gorilla Trekking, however there are other fascinating activities on offer such as Golden Monkey Trekking as well as walks to Lake Bulera and surrounding regions, visit Dian Fossey's grave or indulge in a massage by a therapist at the lodge.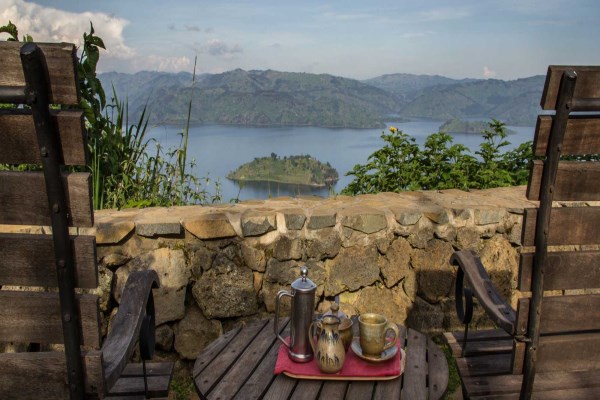 Enquire about Virunga Lodge
Guide Price: From USD $425 per person per night sharing
Rates may vary according to season