Tsavo East, Tsavo West and Chyulu Hills wildlife reserves cover a huge area in Southern Kenya. Safaris in this area are excellent especially in the dry season when its easier to find the animals as they tend to congregate around scarce water sources. The area is covered in bushy grasslands and rocky plains.
Tsavo West has a diverse terrain ranging from wooded grasslands and lakes, to forests and mountains. Tsavo west is a beautiful area and home to the marvellous Mzima Springs which can be seen bubbling to the surface producing massive amounts of fresh water per hour. The riverine forests around this area abound with monkeys and birds.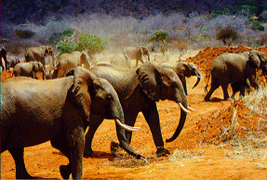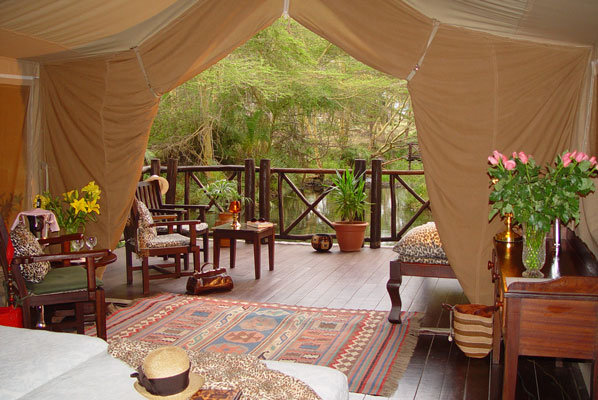 Tsavo East consists of bushy grasslands and open rocky plains and woodland with little surface water. One very special water catchment area is mudanda rock where hundreds of elephant and other wildlife can be seen quenching their thirst. This area is a fantastic game viewing area providing uninterrupted views of the magnificent wildlife.
Both Tsavo West and Tsavo East are ideal safari destinations as one can experience Kenya's excellent wildlife whilst on Safari in this region and with more exclusivity, as this area is not as touristy as other national parks within Kenya.
RECOMMENDED SAFARI CAMP IN TSAVO EAST