Tortilis Camp is located in Amboseli National Park and is often the first stop for client's doing a comprehensive Kenya safari. Tortilis Camp is an award-winning, ecotourism lodge which was built with a sensitive eye to its surrounding environment.
Tortilis Camp not only offers an excellent safari in the wildlife rich Amboseli National Park, but it does so in the most perfect of settings with the iconic Mount Kilimanjaro in the background.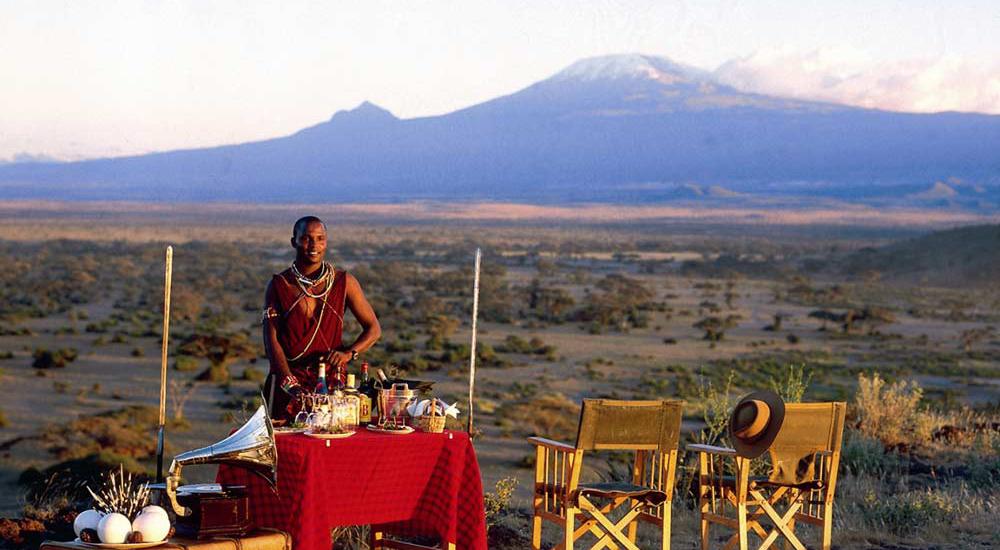 Mount Kilimanjaro provides the perfect backdrop to a safari at Tortilis Camp

What Africa Uncovered says…
Tortilis Camp is our favourite camp in Amboseli National Park. It just delivers a great safari for our clients time and again. Tortilis Camp is the perfect camp to start your Kenya safari.
Tortilis Camp Description
Luxury tents with private en-suite bathrooms and unrivalled views of the mountain make Tortilis Camp the ultimate place from which to explore this wildlife haven. Amboseli National Park is particularly well known as the place to see Elephant in Kenya.
Tortilis Camp has won a regional award for ecotourism and has earned an international reputation for its commitment to the environment with its rustic simplicity, unobtrusive design and attention to comfort without compromising the ecosystem. The tents are large, the emphasis is on service and comfort. Each tent leads from a bedroom with expansive king-size or generous twin beds, through a dressing area into modern bathrooms with pressured hot showers and flush toilets.Each tent is raised up on a wooden deck and sheltered by a makuti (thatched) roof overhanging a large verandah, ideal for an early afternoon siesta.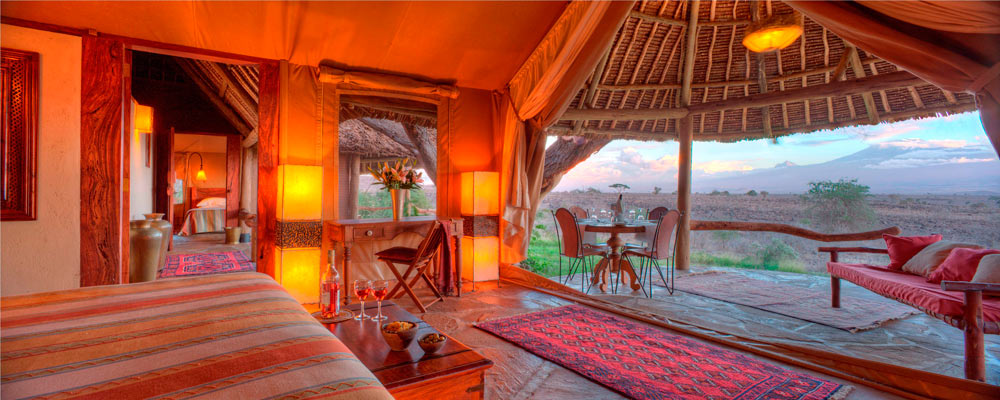 A family tented room at Tortilis Camp

"Tortilis and Elephant Pepper were amazing, the best expereince we could have ever hoped for and will certainly return to them both in the future. Exceptional food, impeccable service, amazing accomodation, just everything we wanted. Perfect. Flawless etc."
Daniel Steffe – Australia
This is a great place to start a safari, relax and acclimatise. The food is part of the charm: North Italian traditional recipes from the owner's family cookbook, complimented by delicious salads and herbs grown in the camp's own garden. Here clients enjoy varied game viewing and can also spend time following the matriarchal elephant herds from the luxury of open sided safari Land Rovers; or walk with a trained Maasai guide, sip sundowners on top of Kitirua hill as the sun sets colouring the snows of Kilimanjaro pink, bush breakfasts out on the plains or a visit to one of the Maasai manyattas (villages) to meet the Maasai women, watch the Morans (young warriors) dance and experience their age-old existence.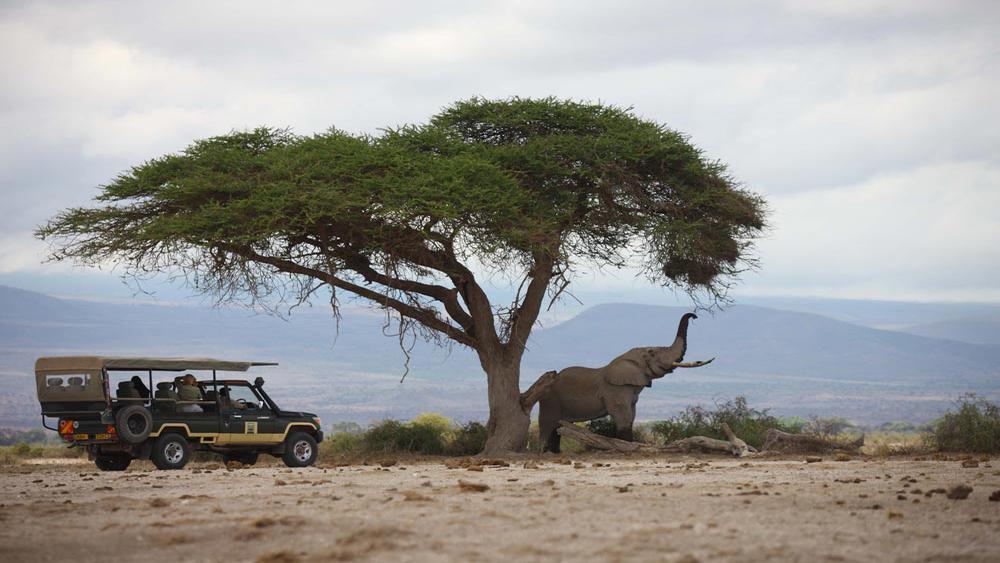 A safari at Tortilis Camp
Enquire about Tortilis Camp
Guide Price: From USD $380 per person per night sharing
Rates may vary according to season