Namiri Plains Camp Summary
Namiri Plains is fast becoming an iconic camp in the Serengeti. The camp is located in the eastern sector of the Serengeti. Namiri Plains Camp has a remote location and offers a more exclusive safari experience than a lot of the other camps in the Serengeti.
The sector of the Serengeti where Namiri Plains is built was closed for 20 years due to a Cheetah conservation initiative. Cheetah populations in this part of the Serengeti have subsequently flourished with the short, endless grasslands providing ideal terrain for these magnificent cats.
Namiri Plains has an ideal location from which to explore this fascinating part of the Serengeti. The nearest camp is over an hour away from Namiri Plains and so Namiri really offers a unique and exclusive safari experience in the Serengeti National Park.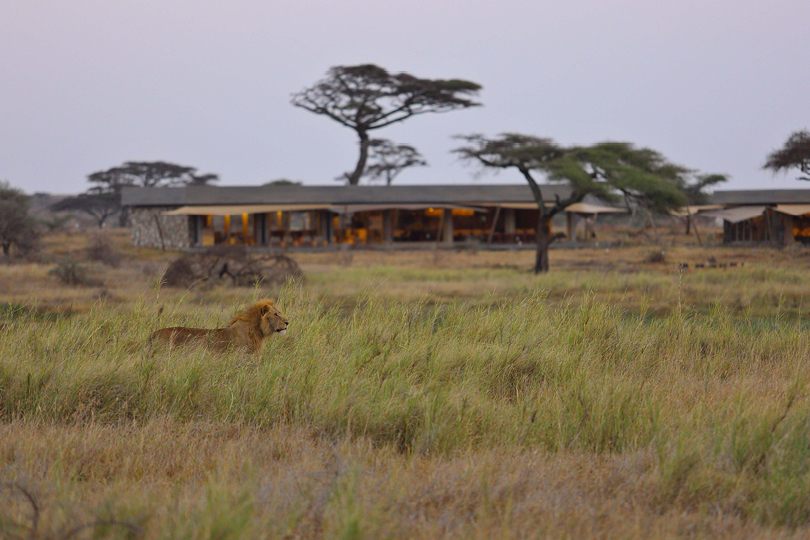 A Male Lion passes in front of Namiri Plains Camp

What Africa Uncovered says…
Namiri Plains is an excellent, luxury, but authentic safari camp located in a remote and exclusive part of the Serengeti. This camp offers excellent wildlife viewing and outstanding Cheetah sightings.
Namiri Plains Camp Description
Located in the remote Eastern Serengeti Namiri Plains consists of 10 tented suites and one family tented suite. All the suites at Namiri are en-suite and have a deck looking out over the magnificent short grass plains. Namiri Plains runs on 100% Solar with a backup generator in place, if needed. All suites have a safe as well as battery charging points and there is a Spa at Namiri as well as a swimming pool.
The walls of the tented suites are made from rock that was created from Volcanic ash and this particular sedimentary rock helps to regulate the room temperature of the suites.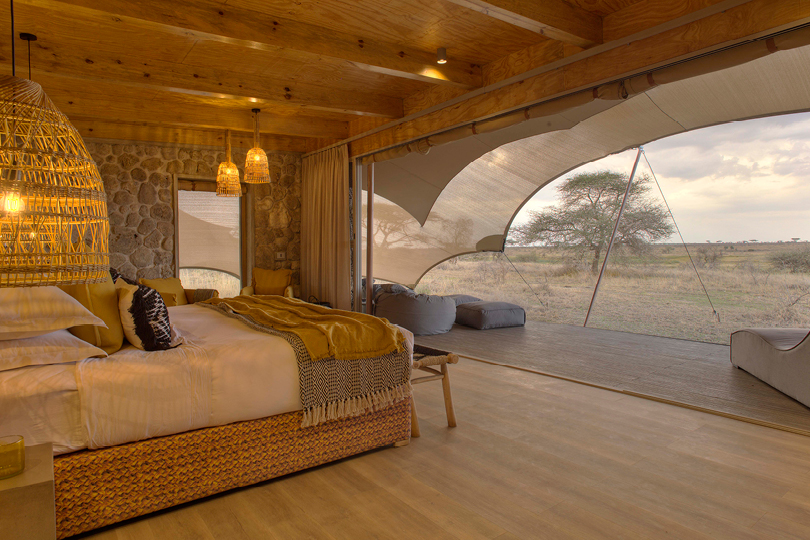 Namiri Plains Camp tented suite

"Namiri Plains…wow, what a camp…what an experience. We loved every minute of our stay there and the Cheetah sightings in particular were off the charts!"
The highlight of a safari at Namiri Plains is witnessing Cheetah on the short grasslands. The short grass and permanent water sources also attract an abundance of plains game which in turn provides ample hunting opportunities for the Cheetah and Lion that are found around Namiri Plains. The great migration herds can also be seen on the open grasslands particularly from May to October.
Namiri Plains offers 2 game drives per day. An early morning game drive and a late afternoon game drive. The animals are most active at these times of day and led by an experienced Namiri Plains guide the game drives should offer an amazing wildlife experience.
Namiri Plains also offers walking safaris and the opportunity to spend an evening with a resident Cheetah researcher. Guests can also donate to the excellent work done by the very successful Serengeti Cheetah Project.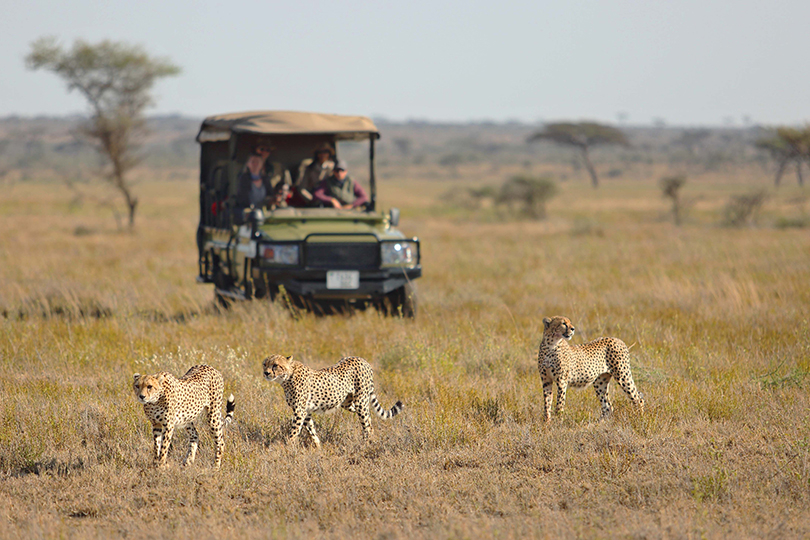 On game drive at Namiri Plains Camp
Enquire about Namiri Plains Camp
Guide Price: From USD $871per person per night sharing
Rates may vary according to season