Ngorongoro Crater Lodge Summary
Ngorongoro Crater Lodge is perched on the edge of the world-famous Ngorongoro Crater at the eastern edge of the Serengeti in northern Tanzania. Ngorongoro Crater Lodge offers magnificent views of the Crater and excellent safaris into the crater.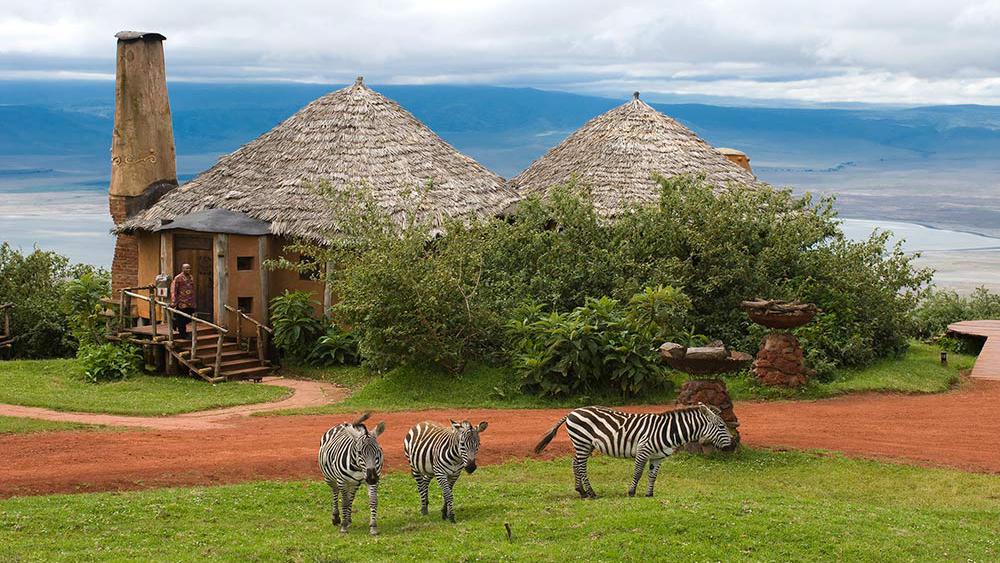 A Suite at the very luxurious Ngorongoro Crater Lodge

What Africa Uncovered says…
Ngorongoro Crater Lodge is a very luxurious lodge offering the best views of the Crater below. This lodge offers the ultimate Ngorongoro safari experience.
Ngorongoro Crater Lodge Description
Inspired in design by the Maasai mud-and-stick homesteads, Ngorongoro Crater Lodge is without doubt one of the most architecturally spectacular safari lodges in Africa. Three intimate camps comprise romantic suites perched on the edge of the Ngorongoro Crater – a World Heritage site.
Steeped in romance, each mud and thatch suite is reminiscent of a bygone era, with the stilted, handcrafted structures adorned in graceful antiques, grand chandeliers and African treasures. The bedroom, sitting room and en suite bathroom boast floor-to-ceiling glass windows, overlooking the magnificent Crater below. Your personal butler will discreetly tend to your every need, bringing you tea in bed, stoking your fireplace and drawing your bath.
Each extraordinary camp operates independently with its own central living and dining areas and viewing decks. Early settler-style interiors combine silver, gold and ruby colours under banana-leaf ceilings and grass roofs. Beaded chandeliers hang above large gilt mirrors, and antiques, plump cushions, voluptuous raw silk curtains and leather-backed chairs blend harmoniously with African art elements.
The domed dining room, with its fireplace, crystal, silver and massive wooden platters, makes every meal a special occasion. Delicious Pan-African cuisine may also be enjoyed on the outdoor dining deck.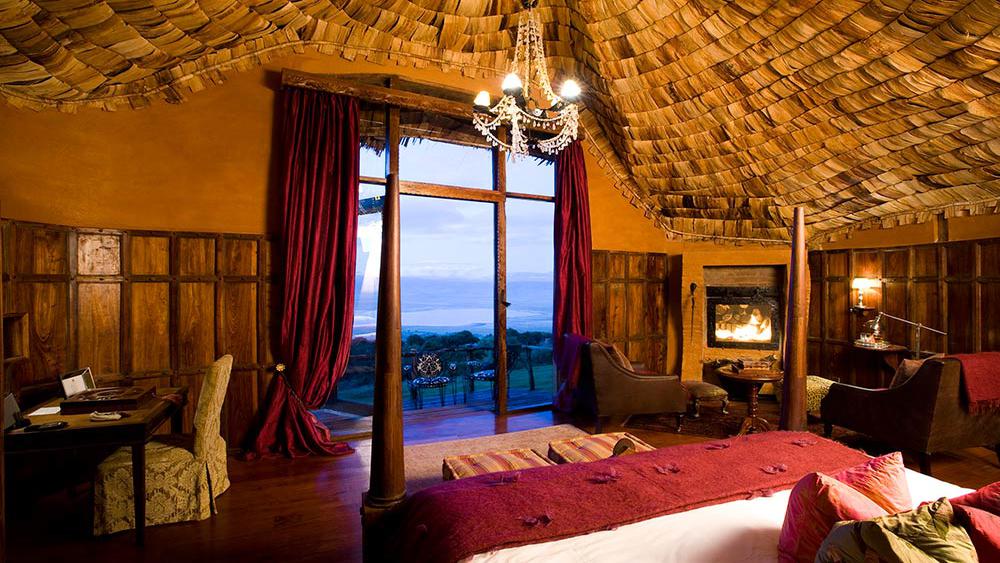 A Suite at the very luxurious Ngorongoro Crater Lodge

"Ngorongoro Crater Lodge was fabulous and Mnemba Island was the ideal place to unwind after the safari. Just a big thanks and will be in touch soon about where to head next."
NGORONGORO CRATER LODGE ACTIVITIES & WILDLIFE
Highly trained expert safari guides will lead you on interpretive game-drives in closed 4×4 safari vehicles with pop-up roofs into the Crater and Ngorongoro Conservation Area, boasting exceptional game and bird viewing opportunities. You may also enjoy visits to local Maasai manyattas, lavish picnics on the Crater floor, excursions to Olduvai Gorge and Shifting Sands, as well as walks on the Crater rim.
The Ngorongoro Crater floor's open grassland habitat supports resident herds of grazing herbivores and their attendant predators. Pillarwood, nuxia, mountain bersama, hagenia and ficus trees, all draped with lichens and epiphytic orchids, dominate cloud forest on the Crater rim. Lerai fever tree forest is home to elephant and nesting raptors. The soda-rich Lake Magadi on the Crater floor attracts flamingos and other wading birds, while ducks and other waterfowl favour freshwater ponds.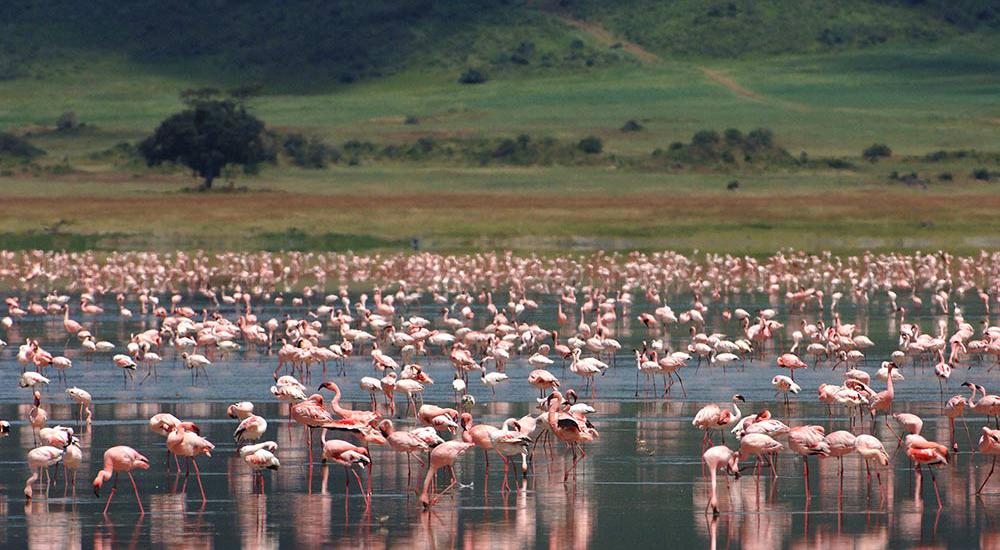 Pink Flamigos in the Ngorongoro Crater
Enquire about Ngorongoro Crater Lodge
Guide Price: From USD $1,000 per person per night sharing
Rates may vary according to season