Jaci's Safari and Tree Lodges
Jaci's Safari & Tree Lodges Summary
Jaci's Safari Lodge & Tree Lodge offer excellent accommodation and outstanding service in the picturesque settings of the Malaria free Madikwe Game Reserve, which consists of 75,000 hectares of prime wilderness. Jaci's are unique in that they offer exclusive and specialized children's safaris.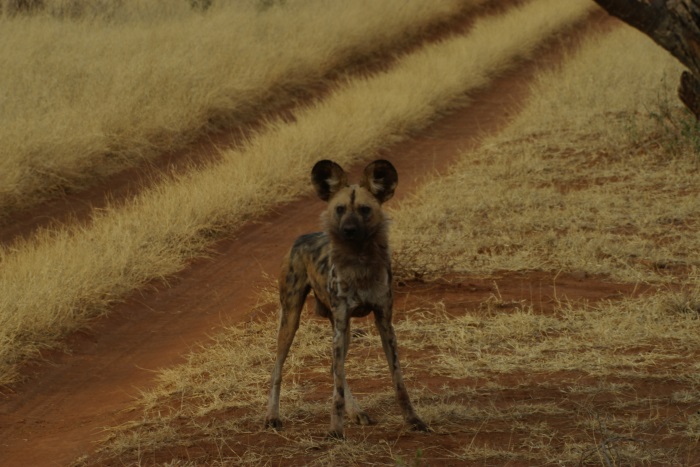 Above: Wild Dog on safari at Jaci's Camp

What Africa Uncovered says…
Jaci's Safari Lodge and Tree Lodge are without doubt the best luxury safaris lodges in the Madikwe Game Reserve for families travelling with young children. The Lodges are very child friendly and still offer an authentic safari experience.
Jaci's Safari & Tree Lodges Description
Jaci's has 2 distinct lodges; Jaci's Safari Lodge and Jaci's Tree Lodge.
Jaci's Safari Lodge is located along the Marico River and has a main lounge area with fireplace as well as a fire pit. The lodge also has 2 swimming pools, a gym, games room for children as well as Spa. Jaci's Safari Lodge has 8 large rooms and the exclusive 2 bed-roomed "Nare Suite" – all built with thatched roofs, canvas walls and large tented windows inviting you to enjoy your bush surroundings. A hand crafted rock bath and outdoor safari shower compliment the authentic safari atmosphere. All the rooms have double beds and children sharing with their parents are comfortably accommodated on camping stretchers in the rooms. Maximum 3 children per room. There is a well-equipped bush gym and kids play area is situated along the river path, linking the two lodges
Perfect for families is the safari suite which is a 2 bedroom suite which can sleep up to 4 adults and 4 children. The safari suite contains a small lounge as well as plunge pool with loungers. Guests staying at the safari suite will also have their own private guide and vehicle. Guests can also choose whether to dine in the safari suite or at the main lodge with the other guests.
The Nare Suite accommodates a maximum of 6 guests and has a self-contained kitchen and lounge. A private plunge pool built within the wooden viewing deck overlooks a fabulous waterhole and incorporates an outdoor dining area where chefs will prepare sumptuous meals for you in the privacy and luxury of your own bush retreat. Equipped with a private game drive vehicle and professional guide you are assured of an exclusive safari to be remembered and repeated.
Jaci's Tree Lodge has 8 "Tree Houses" each encompassing a giant Tambotie or Leadwood Tree. Each "Tree House" is constructed amongst the Riverine forest on stilts, up to 6 meters above the ground. These spacious "Tree Houses" include an open plan, en-suite bathroom with an enormous stone bath and outdoor "Jungle Shower" allowing you to enjoy your forest surrounds. Relax, on the deck in front of your room, in the main lodge or wander to the forest pool to cool off. Raised wooden walkways, suspended in the forest canopy lining the banks of the Marico River, will connect with the extraordinary Main Lodge and its generous facilities (including a magnificent bar and lounge area separate from the dining area by a 4 sided open fireplace).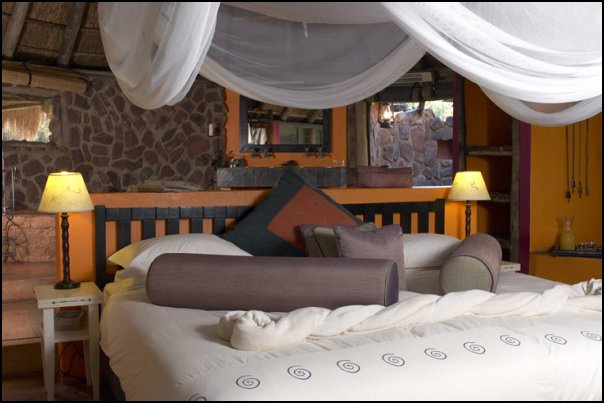 Above: Jaci's Safari Lodge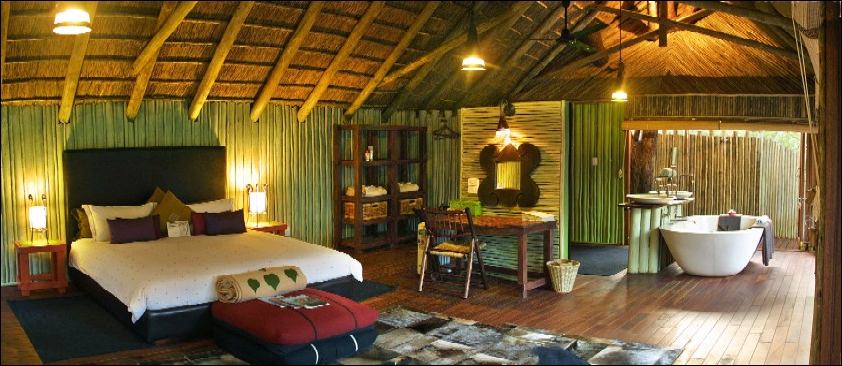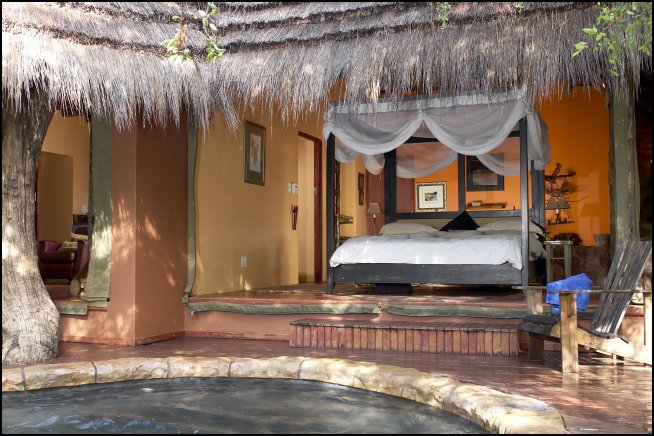 Thank you so much for organizing such a fantastic holiday for our family. Our safari at Jaci's was a real highlight and the children were just over the moon and it was an amazing experience for them and the whole family.
You can expect to see Wild Dog, Black and White Rhino, Hippo, Lion, Leopard, Spotted and Brown Hyena, Cheetah, Giraffe, Buffalo, over 400 Elephant, extensive plains game as well as over 340 species of bird. Jaci's Lodges offer morning and afternoon game drives as well as intrepid bush walks. The game drives at Madikwe are strictly controlled allowing only a maximum of 3 vehicles near any particular sighting. Game Drives at Jaci's Lodges usually last for around 3.5 hours each.
Long game drives are often boring for young children and so at Jaci's Lodges children aged four years & younger can be specially accommodated with their own "jungle drive"on request at additional cost. The "jungle drive" is educational, informative and deliberately shorter, to keep younger children engaged.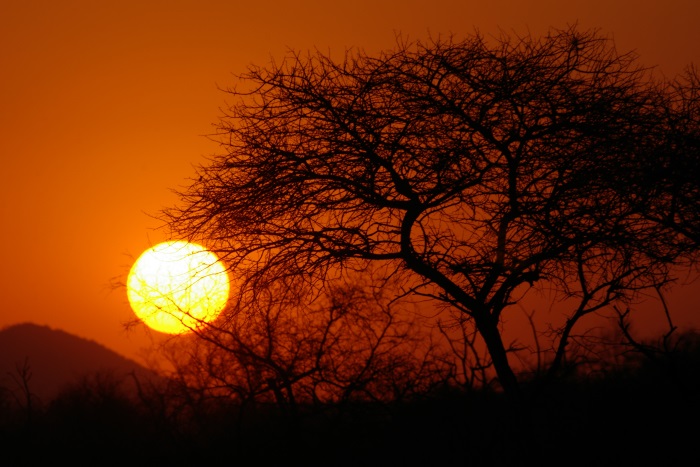 Enquire about Jaci's Safari and Tree Lodges
Guide Price: From USD $307 per person per night sharing
Rates may vary according to season