Tanda Tula Safari Camp Summary
Tanda Tula Safari Camp is a luxury but authentic tented camp located in the heart of the Timbavati Nature Reserve bordering Kruger Park in South Africa. With excellent game viewing alongside the world renowned Kruger National Park, Tanda Tula Safari Camp is an excellent luxury safari destination.
Tanda Tula offers a luxury but authentic safari in an excellent game viewing region. The tented rooms allow one to feel closer to nature but luxury is not compromised. This intimate camp is renowned for its charming service and passionately well informed staff.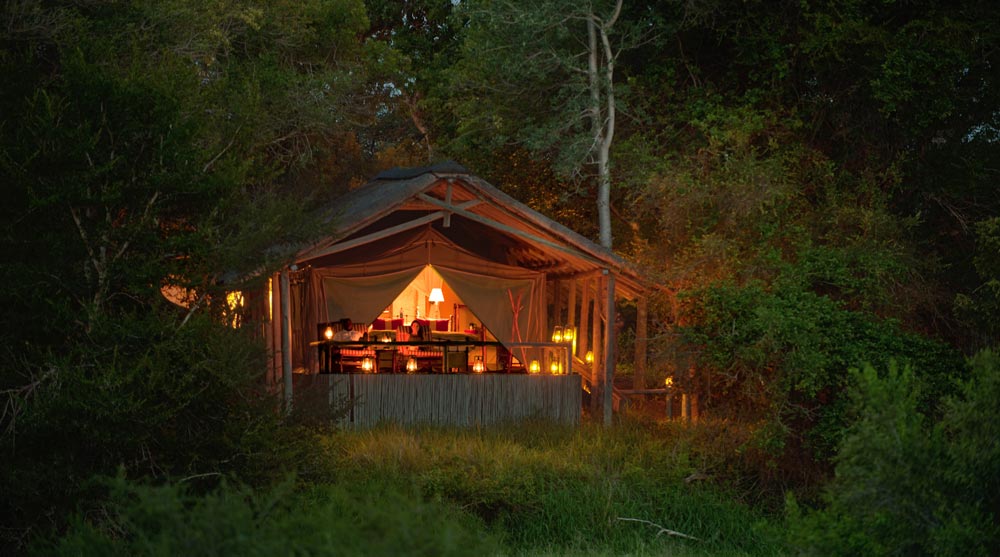 Luxury Tented Room at Tanda Tula Safari Camp

What Africa Uncovered says…
Tanda Tula Safari camp is an excellent camp that we recommend a lot. The tented rooms allow for a more authentic safari and the guides at Tanda Tula are outstanding.
Tanda Tula Safari Camp Description
Accommodation at Tanda Tula comes in the form of 12 luxuriously appointed East African-style tented suites, all with en-suite bathrooms and private timber decks overlooking the riverbed.
Guest areas include a thatched lounge, open-air dining areas, a curio shop and swimming pool. The lounge and infinity swimming pool overlook a waterhole where animals come to drink throughout the day and night.
Tanda Tula Safari Camp offers fine international cuisine with an African dimension – such as medallions of Kudu with mushroom and cheese or carpaccio of venison, accompanied by fine South African wines. Dinners are served in a variety of venues, from private dinners on your deck, a barbeque at the water hole or in the river bed, to around log fires in a traditional open-air boma, and Tanda Tula's excellent cuisine is assured to enhance your bush experience.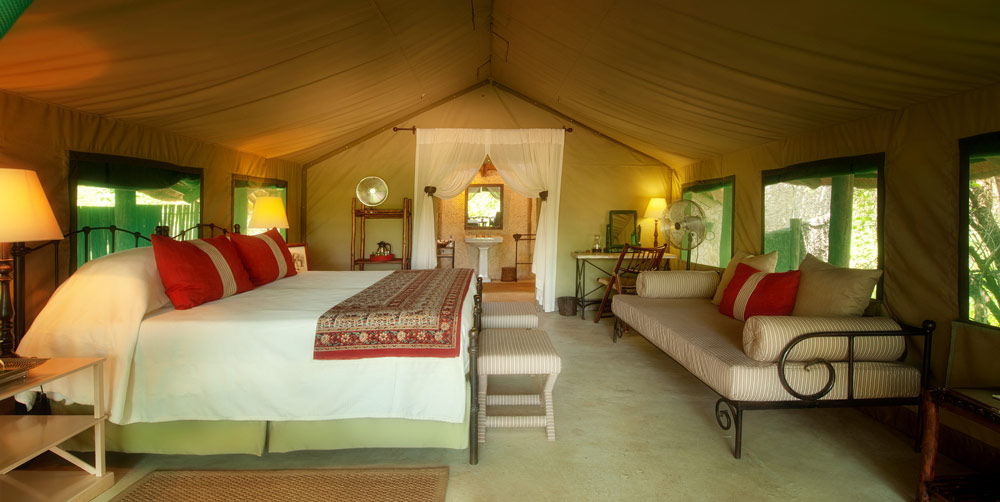 Tented room interior at Tanda Tula Safari Camp

"Ranger Scotch & Trackers Patrick were great. Scotch's bird-book memory was truly impressive. Tanda Tula's policy of including the rangers in dinner festivities was most welcome."
Tanda Tula Safari Camp is sanctuary to Africa's Big Five, with traversing over more than 20,000 ha of wilderness and undisturbed biodiversity. As there are no fences between the Timbavati and Kruger National Park, game are able to roam freely between the two, offering guests an incredible African wildlife experience.
Daily safari activities include two game drives and/or bush walks, sundowner drinks & snacks in the bush.
Out in the bush, there is a lovely hide on the Machaton Dam where private picnics and Star Beds can be arranged, bringing you even closer to the wilderness. The Machaton Hide also forms part of a Two Night Walking Safari which if offered at Tanda Tula Camp (additional charges apply and must be arranged at time of booking).
The game drives are in custom designed, open-air Land Rovers, seating only seven people, allowing clear communication with your ranger and tracker. The seclusion of the camp allows traversing on thousands of hectares of pristine African wilderness..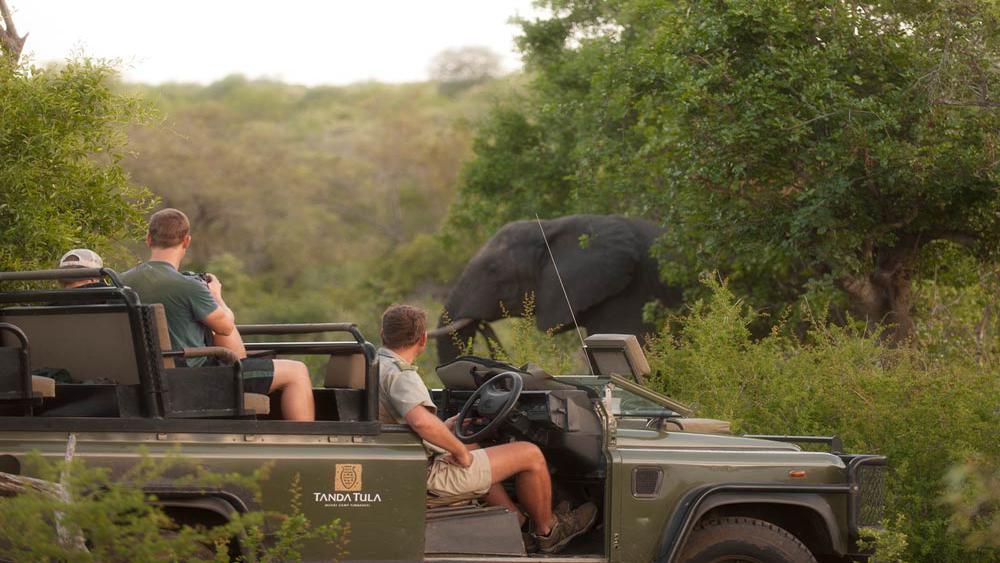 On safari at Tanda Tula Safari Camp
Enquire about Tanda Tula Safari Camp
Guide Price: From USD $414 per person per night sharing
Rates may vary according to season