Franschhoek Country House & Villas
Franschhoek Country House & Villas Summary
Set in the picturesque wine-producing valley of Franschhoek in the magnificent Western Cape region of South Africa, the Franschhoek Country House & Villas offers luxury and indulgence. The hotel is located 1km from the town of Franschhoek and is the perfect base for exploring the famous Cape Winelands.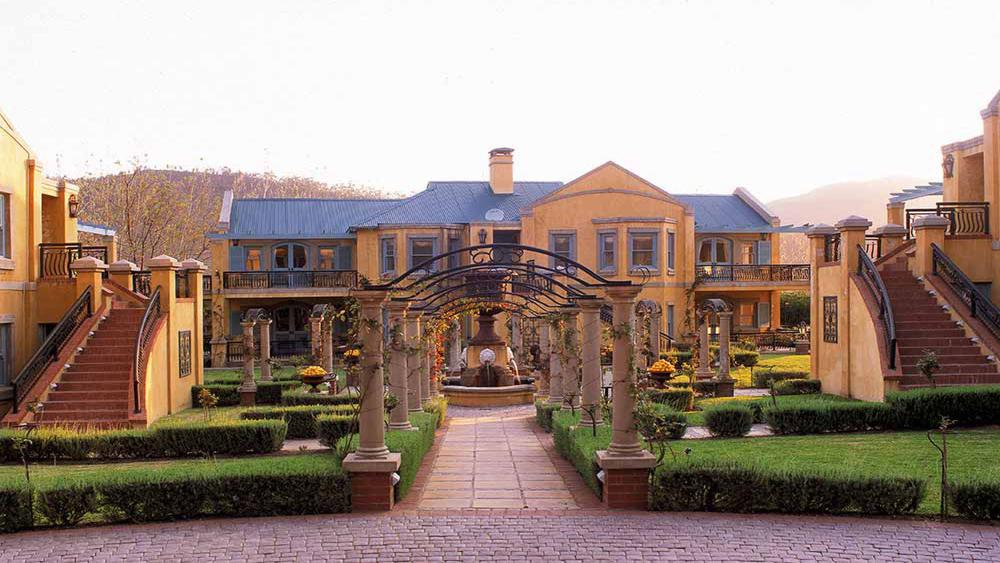 What Africa Uncovered says…
Franschhoek Country House & Villas offers an amazing stay in the Cape Winelands. Just 5 minutes drive from the town centre. The rooms are spacious and luxurious and the Villas are a real treat.
Franschhoek Country House & Villas Description
Franschhoek Country House offers 14 well equipped rooms including 6 standard de luxe rooms, 5 luxury rooms and 2 cottages – all designed with your comfort in mind. All en-suite rooms are individually appointed and have comfortable lush duvets with embroided percale cotton linen.All rooms include en-suite bathrooms, direct dial telephone, mini-bar, flat screen LED satellite tv, tea and coffee making facilities and air-conditioning and most rooms have private balconies. A laundry service and room service is also available to guests.
The standard deluxe rooms are located in the original manor house which dates back to 1890. The luxury rooms are bigger than the sandard deluxe rooms and are located separaely from the Manor House. These rooms have a bigger lounge as well as a fire place and under carpet heating. The luxury rooms have a private balcony or patio, which look onto the fountains and gardens.
The Garden Cottages are perfect for families with small children and consist of a downstairs area with en-suite bedroom with private patio area. Upstairs is a lounge with fold-out bed and a balcony with a view over the surrounding vineyards.
Then there are the very luxurious Villa suites. At 100m2 each these Villa suites are massive and include separate lounge, bedroom and picturesque bathroom and 2 private balconies. The spacious lounge includes comfortable seating, an in-room dining facility, mini-bar, entertainment system with satellite tv, fireplace, air-conditioning, dvd player and music throughout the suite. The lounge also leads out onto a large private balcony with loungers to relax and enjoy the gardens and views.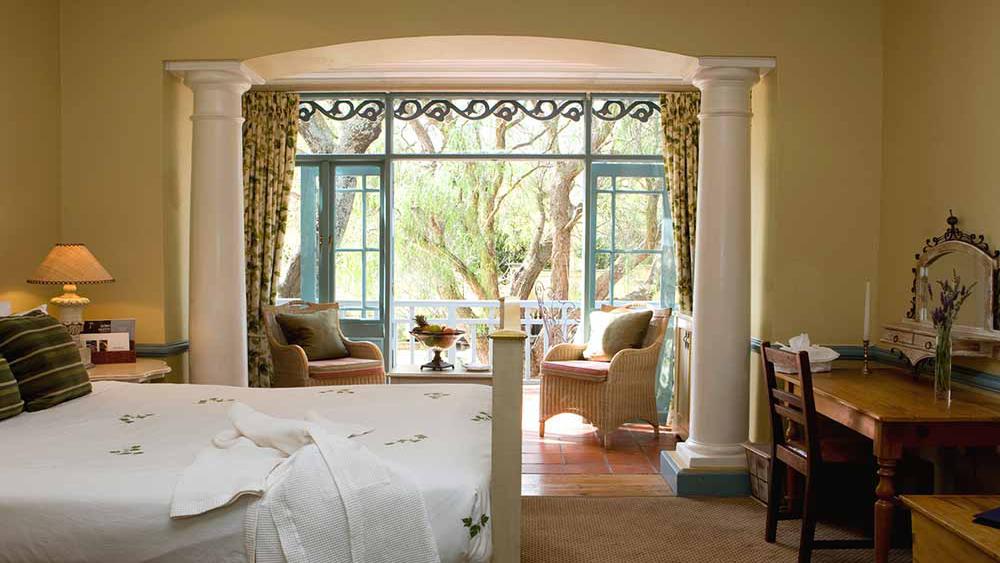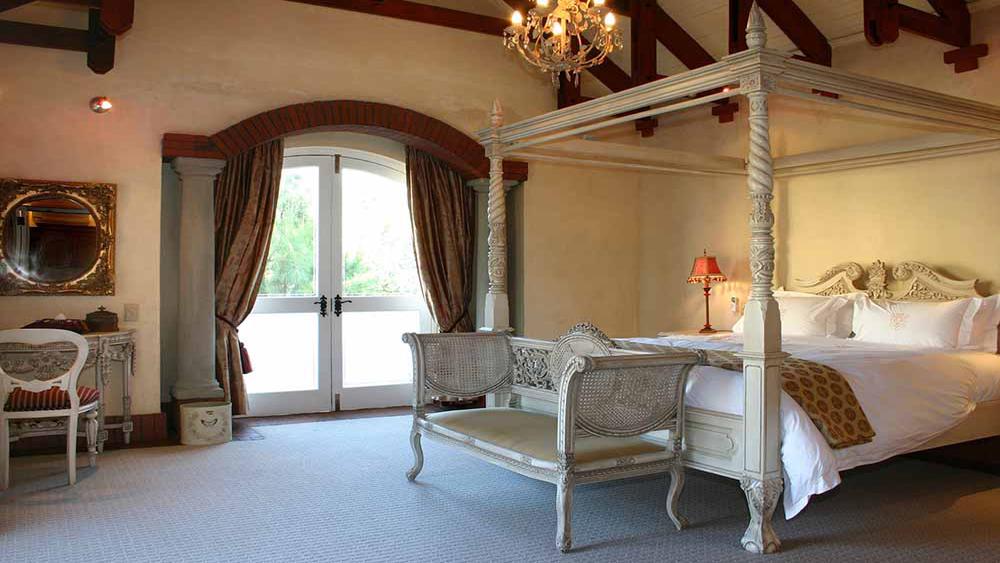 "We ended up getting upgraded to a villa in Franschoek, so that was a wonderful surprise. I actually wished we could have stayed another day there, next time I guess."
Flanked by the majestic Huguenot Mountains, the Franschhoek Country House & Villas is about an hour's drive from Cape Town. Situated in the heart of the wine-route, Franschhoek has plenty to offer. Wine tasting on the farms in the area, or in the neighbouring towns of Stellenbosch and Paarl, is a popular tourist pastime. Cape Dutch architecture, gentle walks in the valley and tales of its Huguenot heritage are all part of Franschhoek's charm.
Visit the Huguenot Monument and learn of the families who settled on land in the Cape given to them by Governor Simon van der Stel. With them, they brought their expertise in agriculture and wine-making. The wine cultivars introduced by the Huguenots have today matured into a complete range of renowned quality red and still white wines and port. Relax and enjoy the beauty of the valley in the comfort of the Franschhoek Country House & Villas.
The in house Monneaux restaurant, voted as one of South Africa's Top Restaurants, has become known for its innovative Modern French Cuisine, prepared with fresh, well sourced ingredients and is exquisitely presented.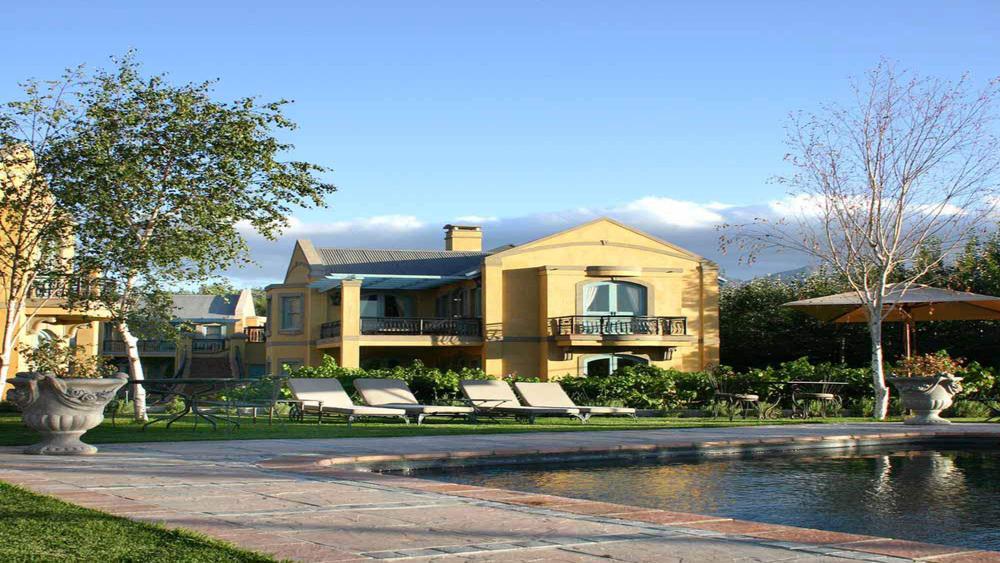 Enquire about Franschhoek Country House & Villas
Guide Price: From USD $110 per person per night sharing
Rates may vary according to season