The Great Namibia Journey
The Great Namibia Journey
The Great Namibia Journey explores the stunning landscapes, barren deserts, rugged mountains and fantastic wildlife that makes Namibia such a sought after travel destination. This amazing group safari explores the dunes of Sossusvlei and the Namib, takes in amazing marine life just off Swakopmund, the rock-strewn landscape of Damaraland and the game-filled savannahs of Etosha. The activities provide a wide range of differing impressions, from a dolphin cruise with private beach lunch, to hiking in Damaraland and walking in the Namib's great dunes.The Exploration traverses the width of central Namibia by road and air.
This group safari departs with a maximum of just 8 guests.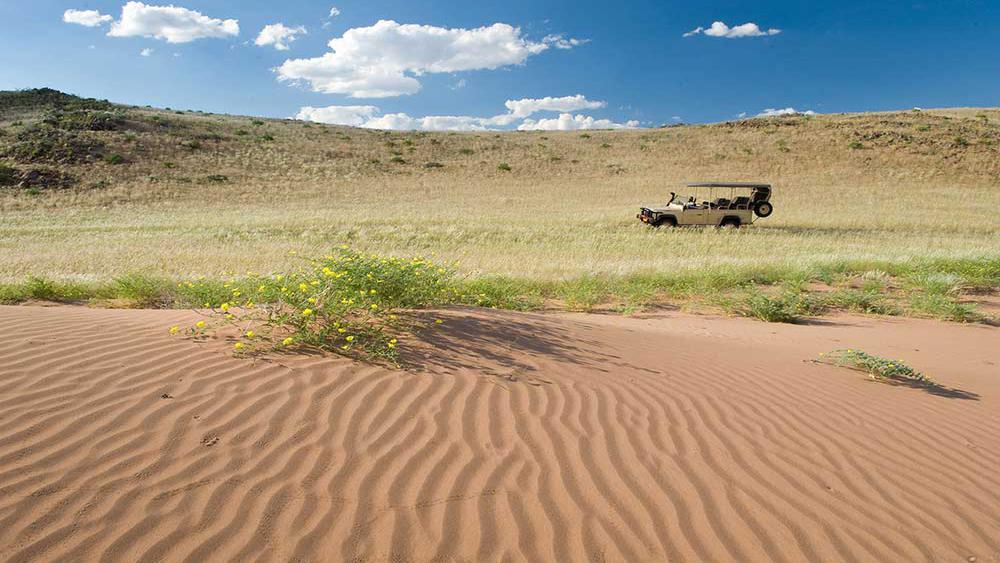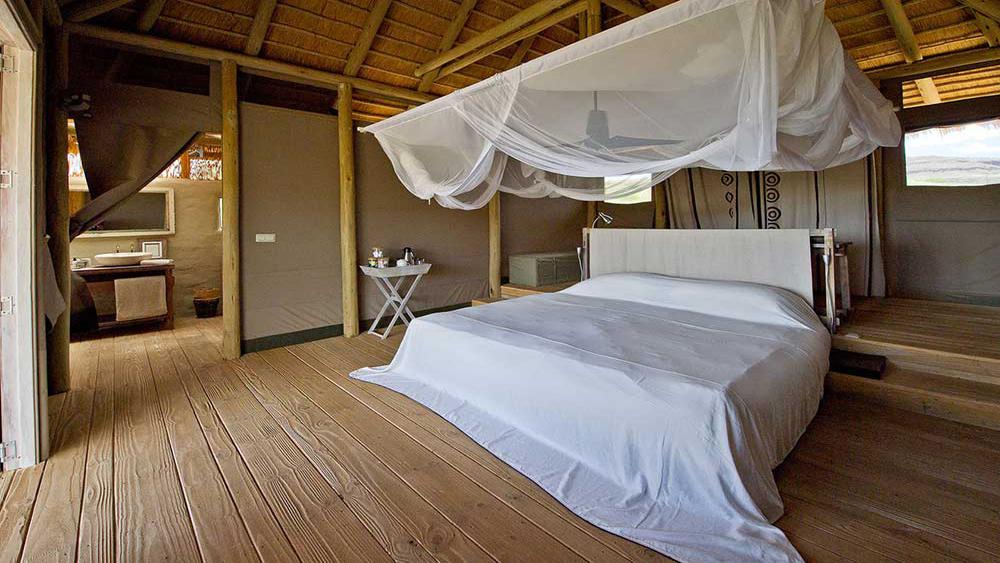 Days 1 – 3: Kulala Desert Lodge, Kulala Wilderness Reserve
On arrival in Windhoek you will be met by your Explorations guide and begin your journey by driving through the Khomas Hochland mountains and down into the iconic Sossusvlei region, a driving time of approximately 5 – 6 hours(330 kilometres / 205 miles). En route, we enjoy a lunch.
As the perfect gateway to the iconic sights of Sossusvlei, Kulala Desert Lodge is a favourite among Wilderness travellers. Magnificent views of the famous dunes, surrounding mountains and vast open plains will be the setting during your stay.Explore the iconic red dunes of Sossusvlei and our 37 000 hectare private reserve where you will be awed by the desert-adapted wildlife surviving in one of the world's oldest and most arid deserts.

Days 3 – 5: Hansa Hotel, Swakopmund
We fly by light aircraft transfer to Swakopmund Airport; this will be a scenic flight (weather permitting). Discover the town of Swakopmund and bed down in an iconic hotel that forms part of city's architectural culture.
On day 4, we explore the ice-blue Atlantic coast on a boat cruise (weather permitting) rounded off with a private seafood lunch.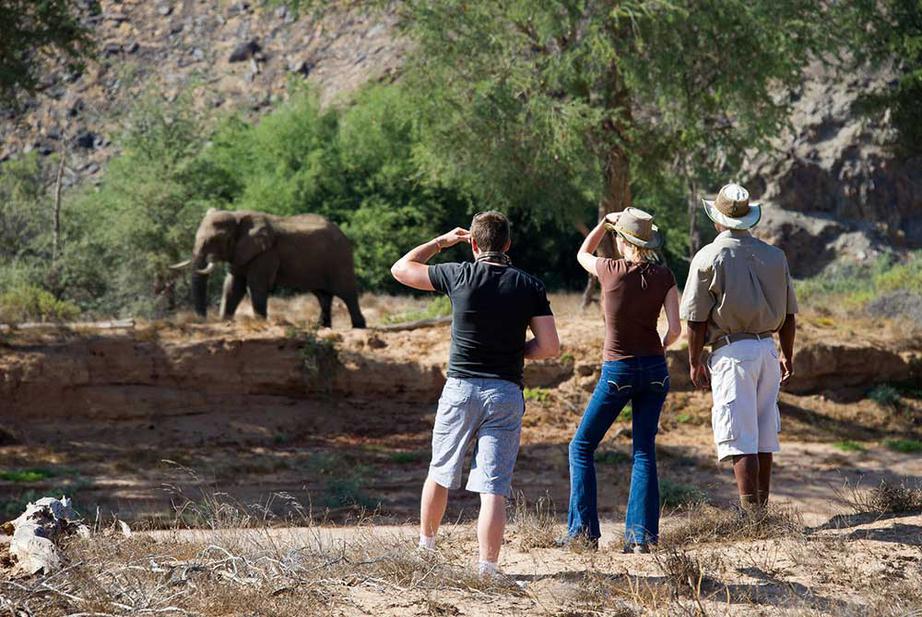 Days 5 – 7: Damaraland Camp, Damaraland
We continue our journey by road for approximately 5 hours(280 kilometres / 174 miles) partly up the legendary Skeleton Coast (named for the numerous shipwrecks the treacherous shores have claimed over the years). From here we drive the back roads through the game productive Ugab riverbed, travelling north past the Brandberg Mountain – the second largest monolith on earth – to Damaraland. This all-day excursion with lunch en route ends with our arrival at Damaraland Camp
A land of stark beauty, the area boasts a varied assortment of desert-adapted wildlife and incredible geological formations.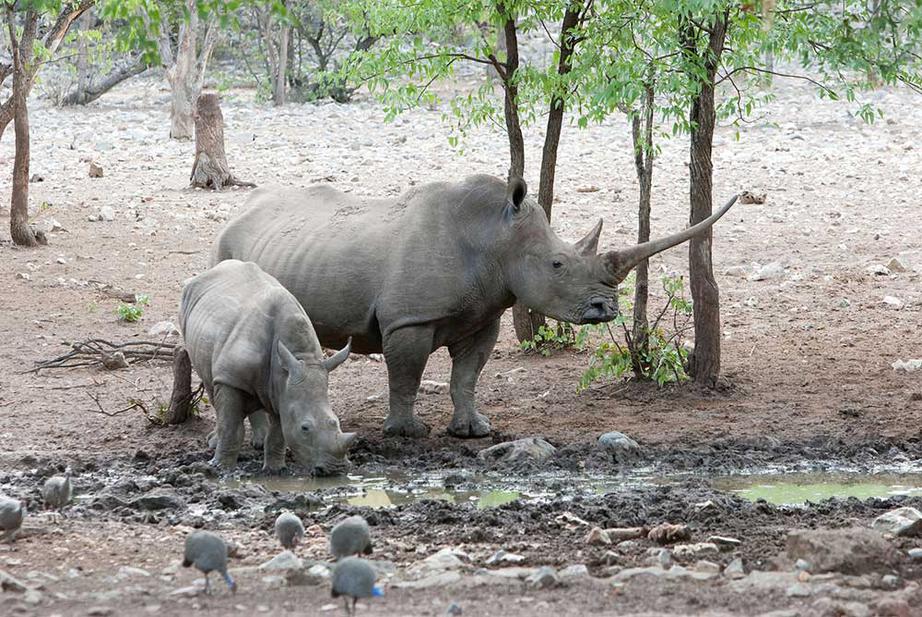 Days 7 – 9: Desert Rhino Camp, Damaraland
We drive into the Huab riverbed to search for desert-adapted elephants, before heading north to the mountainous and rocky paradise of the massive Palmwag Concession.The speciality of the area is its growing population of the rare desert-adapted black rhino (the largest concentration in the world outside a national park), which are monitored and protected by the Save the Rhino Trust.
At Desert Rhino Camp you will take part in a thrilling and exclusive conservation success story. Tracking Africa's unique and endangered desert-adapted black rhino is an unforgettable experience. To set the scene, you will be shown into one of the eight en-suite Meru-style tents elevated off the ground.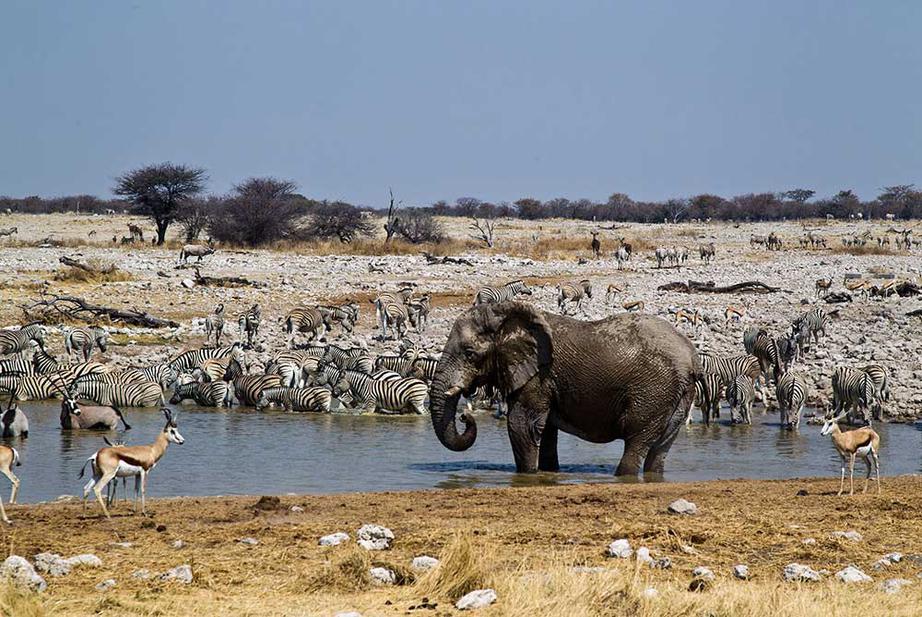 Days 9 – 12: Ongava Tented Camp, Etosha National Park
We depart the Palmwag Concession eastward on an extended combination wildlife viewing (first part of the drive) and transfer drive of approximately 6 hours(350km / 218 miles) to Etosha National Park, where we experience the pinnacle of Namibia's game viewing.We are accommodated in the privacy of an exclusive bush camp situated on an extensive private game reserve, Ongava, just on the outside of Etosha National Park.
Tucked away in the foothills of a dolomite hill, Ongava Tented Camp is one of Namibia's best-kept secrets. You will be captivated by the bustling waterhole in front of camp as wildlife file through to quench their much needed thirst.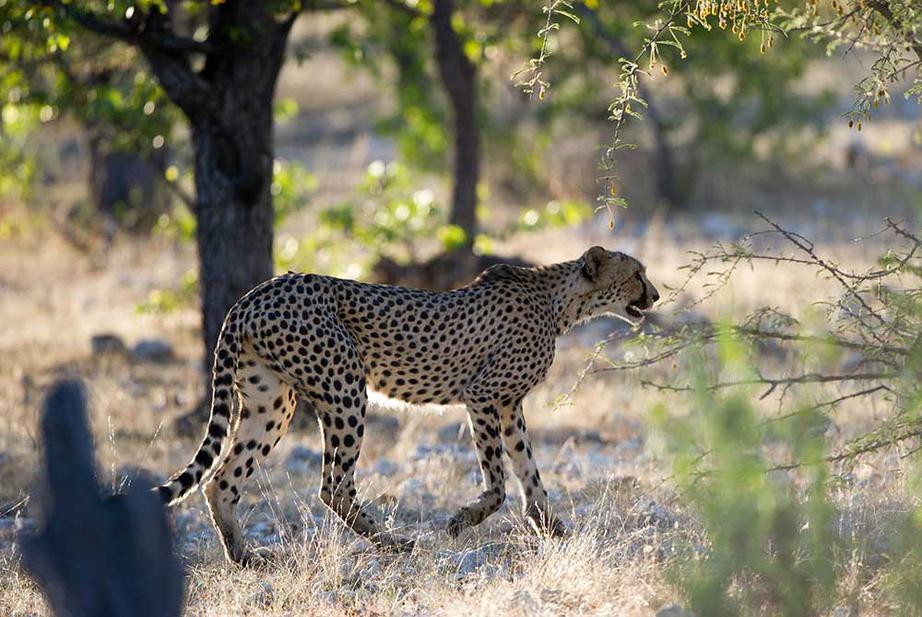 We return to Windhoek and bid farewell to our adventure.
Enquire about The Great Namibia Journey
Guide Price: From USD $5,260 per person sharing
Please note that this is a suggested itinerary, however at Africa Uncovered we do specialise in creating tours and safaris based on your individual tastes and needs.
Rates may vary according to season