The Diverse Namibia Safari explores some of Namibia's finest regions including dunes, plains, desert and wildlife regions. This group safari encompasses the soaring red dunes of Sossusvlei, the seaside town of Swakopmund, the desert of Damaraland and the wildlife of Etosha. The Diverse Nambia Safaris also includes sceneic walks as we as visiting the ancient rock engravings at Twyfelfontein, along with optional hot air ballooning and horse-riding.
This group safari departs with a maximum of just 12 guests.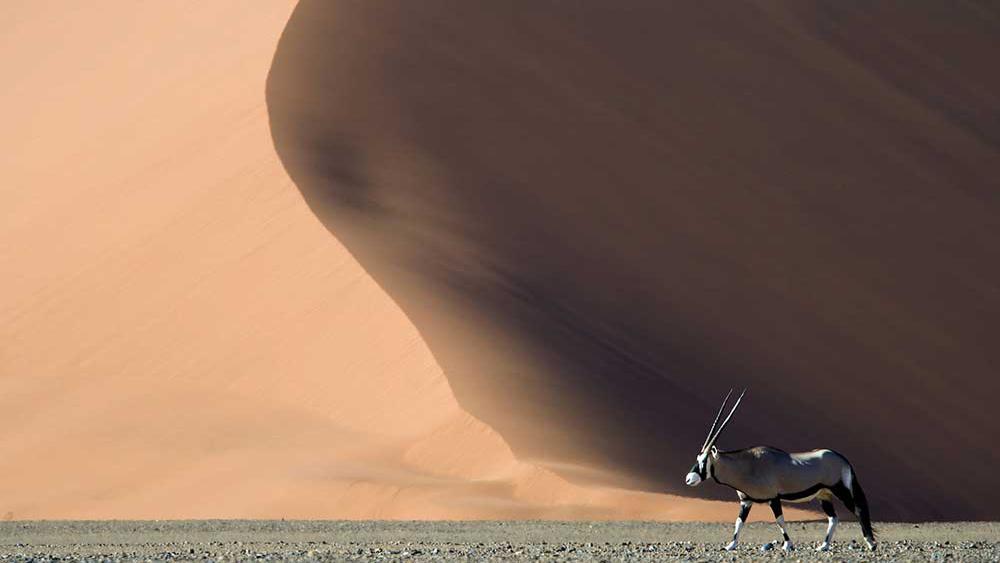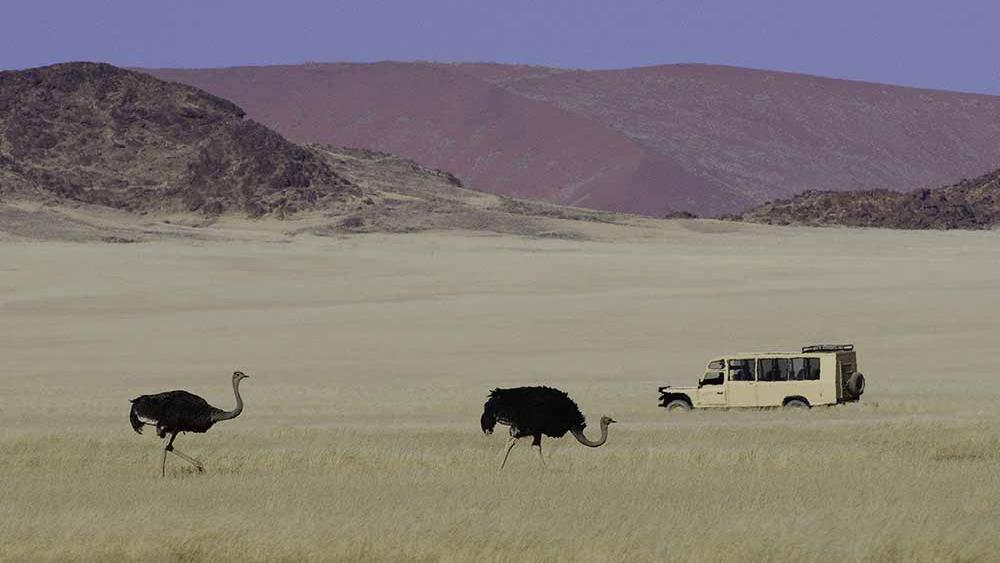 Days 1 – 3: Kulala Adventurer Camp, Sossusvlei
You will be met by your Explorations guide and begin your journey by driving (340 kilometres / 211 miles) through the Khomas Hochland mountains and down into the iconic Sossusvlei region, a driving time of approximately five hours.
Set on 37 000 hectares of land near the spectacular sights of Sossusvlei, the private Kulala Wilderness Reserve is home to Kulala Adventurer Camp. The camp, comprising of 6 dome tents under the shade, is perfect for taking in the Reserve's expansive vistas and stark beauty and enjoys views into the Namib Naukluft National Park.Explore the iconic red dunes and be awed by the desert-adapted wildlife surviving in one of the world's oldest and most arid deserts.

Days 3 – 5: Hansa Hotel, Swakopmund
Depart camp early and drive through the snaking roads of the Kuiseb Canyon and out onto the expansive gravel plains, eventually arriving in Walvis Bay before moving north into the quaint town of Swakopmund, a drive of about 5 – 6 hours (approximately 370 km / 230 miles). Discover the town of Swakopmund and bed down in an iconic hotel that forms part of city's architectural culture.
On Day 4, we explore the ice-blue Atlantic coast with a "Dolphin and Seal" catamaran cruise from Walvis Bay (weather permitting).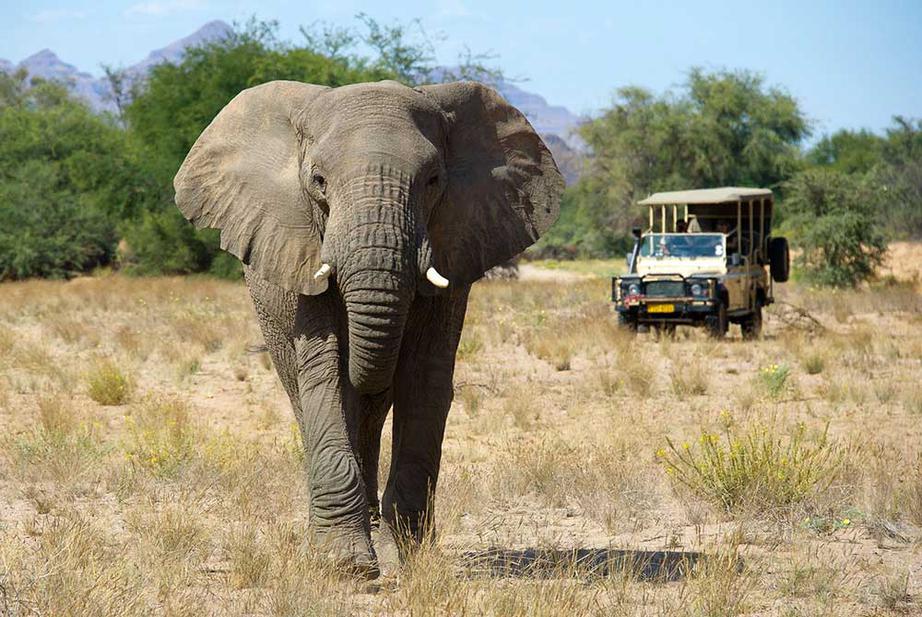 Days 5 – 8: Damaraland Adventurer Camp, Damaraland
We continue our journey by road 320 kilometres (200 miles) and approximately 8-hour drive to Damaraland, west of the Brandberg Mountain, stopping for lunch at Ugab Save the Rhino Trust Camp. This area boasts the largest concentration of black rhino anywhere on the planet outside a national park.
The area boasts a varied assortment of desert-adapted wildlife and incredible geological formations. Damaraland Adventurer Camp is located in a special place in the heart of the rocky desert of Damaraland, an ancient, starkly beautiful landscape. Looking south from camp toward the imposing Brandberg Mountains, Damaraland offers you endless vistas and one of the best wilderness areas in Namibia.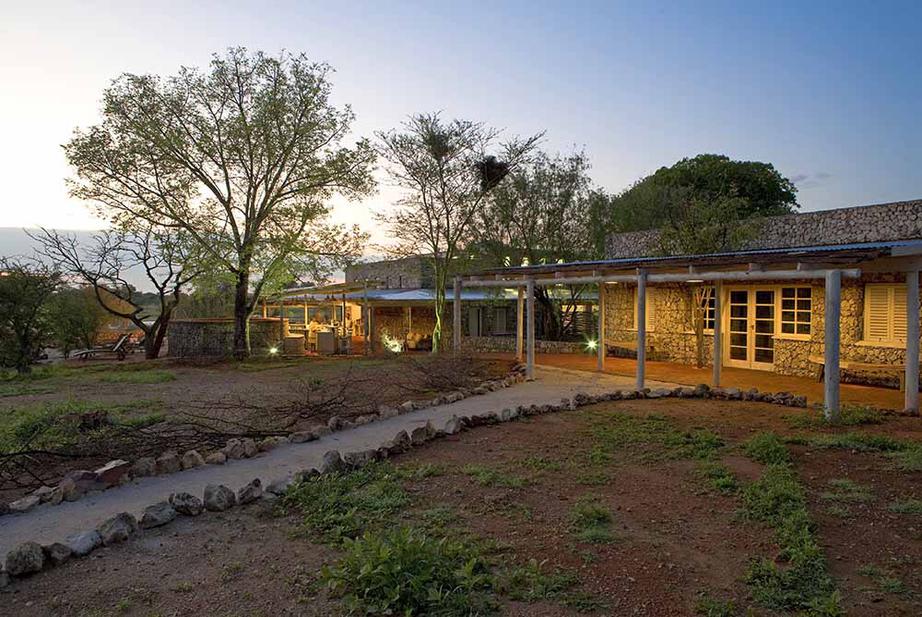 Days 8 – 10: Andersson's Camp, Ongava Game Reserve (Etosha)
We drive approximately 330km (205 miles and a 5-hour drive) to Ongava Game Reserve on the boundary of Etosha National Park. Etosha remains the highest density wildlife area within Namibia, its fame justly acknowledged. We explore here, as well as the Ongava Game Reserve.
Located on the boundary of the world renowned Etosha National Park, Andersson's Camp is the perfect point from which to explore the diversity of fauna and flora in this region. What's more, this charming eco-sensitive camp is set within the privacy of its own reserve teeming with wildlife.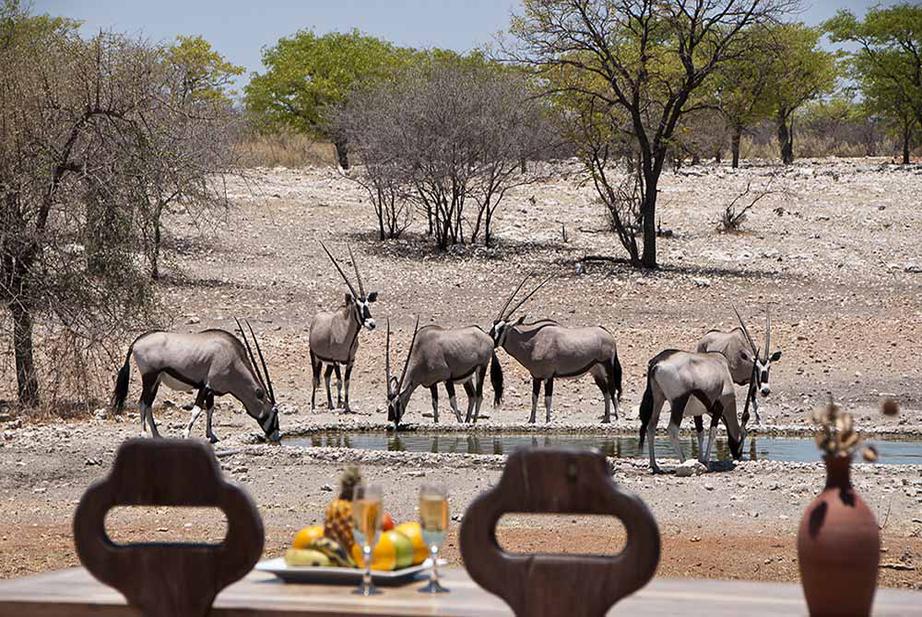 Driving 420 kilometres (260 miles) south, we return to Windhoek at 13h00 and bid farewell to our adventure.
Enquire about Diverse Namibia Safari
Guide Price: From USD $5,260 per person sharing
Please note that this is a suggested itinerary, however at Africa Uncovered we do specialise in creating tours and safaris based on your individual tastes and needs.
Rates may vary according to season